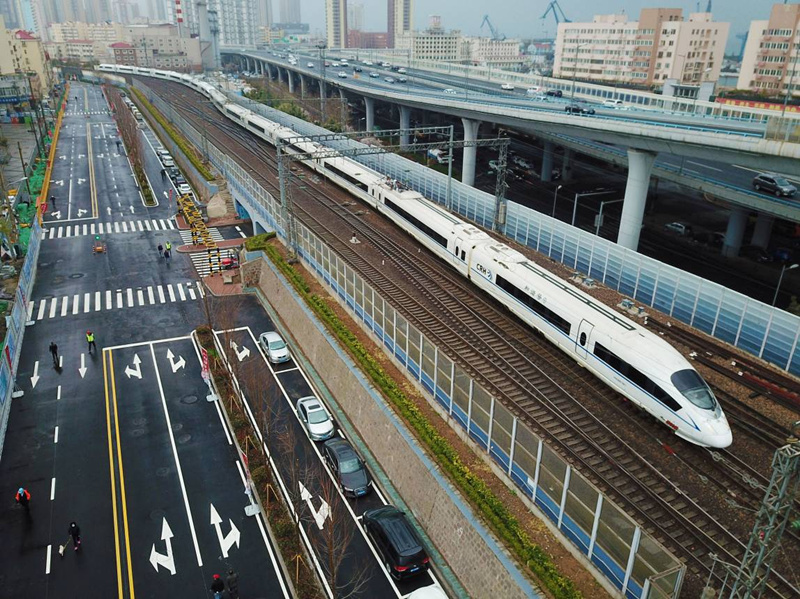 Jinan Road gets a new lease of life. The new-look carriageway opened to the public on April 2. [Photo by Liu Dong/provided to chinadaily.com.cn]
A widening and renovation project for Jinan Road in the Zhongshan Road business area of Shinan district – in the port city of Qingdao in East China's Shandong province – was recently completed and opened to the public, according to local media on April 2.
The upgraded Jinan Road was expanded from the original one-way two lanes to four, two-way lanes. It will be the main channel for transit traffic in the Zhongshan Road business area from south to north, as well as become an important fulcrum point for the renewal of the old town area in the west of Qingdao.
Jinan Road is roughly 750 meters long, with its south and north ends leading to Qingdao Railway Station, Jiaoning elevated highway and the Xinguan elevated highway, respectively.
The area used to be a street selling local special products in the port city, where merchants gathered, with numerous inns, bookstores and local product stores. With the changes and adjustments springing from the urban pattern, the narrow roads were deemed unable to meet the demands of heavy traffic.
At the time of the renovation work in the historic city, the reconstruction and upgrading of Jinan Road has reportedly injected vigor and prosperity in the Zhongshan Road business area.
Source:CHINA DAILY-Charming Qingdao