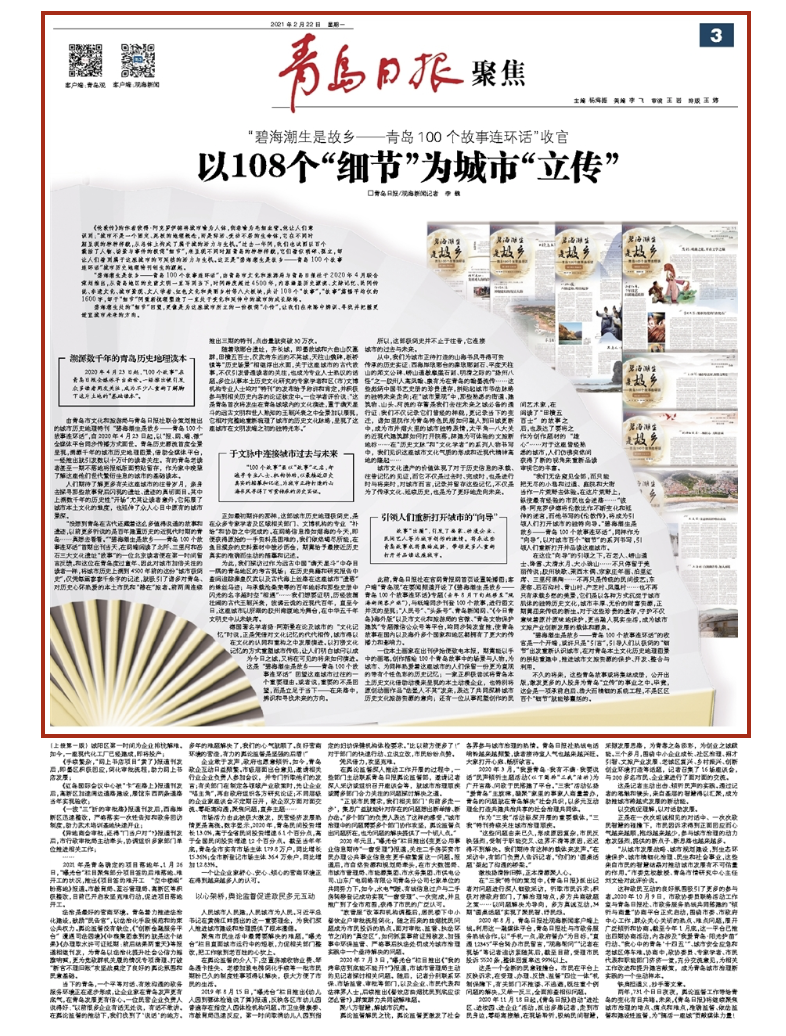 Qingdao daily, February 22, 2021, 3rd Edition
"A Hundred Stories of the Coastal City Qingdao", jointly organized and launched by Qingdao Culture and Tourism Bureau and Qingdao Daily on April of 2020, telling the city's stories from prehistoric civilization to current times, with a time span of over 4,500 years. The content of this series highlights eight major sections, including historical origins, cultural heritage, folklore, intangible cultural heritage, urban landscapes, literati and scholars, the red culture and beautiful countryside.
Reviving the city's histories
It's the first time for the city to present its historical origins in a panoramic view, tracing its histories back to thousands of years before. With the help of all-media platforms, the series attracted hundreds of thousands of readers once it was launched.
Local citizens and potential travelers were touched by these thousand-word stories. The number of hits within the first two weeks exceeded 300,000.
Connecting the city's past and future
It's precisely by virtue of the inheritance of cultural memories that the city can develop and evolve in the process of cultural identification and reconstruction, said Jan Assmann, author of the book Cultural Memory. That's also an important reason for creating this series
—living in the moment and making ways for the future are more important than looking back.
Serving as a guidebook
Qingdao Daily has set up a slideshow for this series on the homepage of its official website. Other media platforms forwarded and promoted simultaneously, which greatly expanded the influence in domestic and overseas countries and regions.
The stories also aroused the passion of painters, animation companies and folk artists to create for the city. In the future, these stories may be published as a book like London: The Biography, leading more people to re-appreciate the city, also inspiring more to devote themselves to the building of Qingdao.