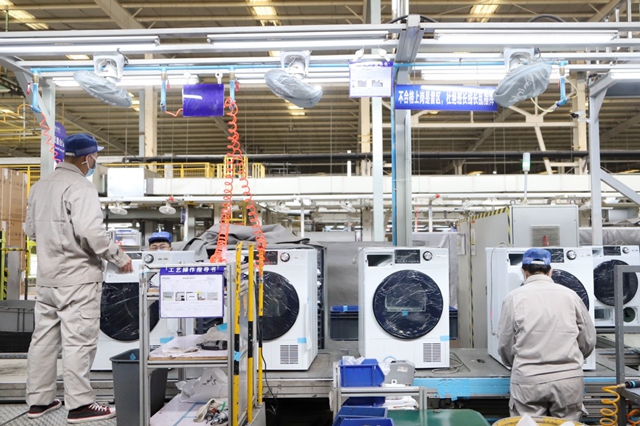 Employees work on the washing machine production line of Haier Group in Qingdao, East China's Shandong province, on Feb 27. [Photo by Wang Peike/For China Daily]
Home appliance giant's solutions help upgrade sectors, boost output, efficiency
Customizing clothes used to be a dilemma for Shaanxi Weizhi Group Co Ltd, a garment manufacturer that has been mass-producing for decades. For the traditional clothing producer, customization led to higher inventories and longer production schedules, both of which greatly slowed down overall production efficiency.
But now, the Hanzhong, Shaanxi province-based firm is able to produce 60,000 customized clothing ensembles per year. Amid the new orders, the company's overall production efficiency has increased by 25 percent with its clothing delivery cycle shortened to 10 days from around 27 days previously.
Behind the company's transformation from large-scale manufacturing to mass customization and production is part of Chinese home appliance giant Haier Group's broader efforts to leverage the industrial internet to help companies across the world drive digital transformation.
"China should build an industrial internet system with unique Chinese characteristics so that the country can gain a beachhead in the next generation of global industrial development," said Zhou Yunjie, president of home appliance giant Haier Group and a deputy to the 13th National People's Congress.
Zhou has been making suggestions on the industrial internet for five consecutive years in hopes that the country's manufacturing industry will be "smarter, bigger and stronger" through the industrial internet.
The industrial internet-along with cloud computing, big data, the internet of things, blockchain, artificial intelligence, virtual reality and augmented reality-has been defined by the country as "key industries" for digital economy in the newly released 14th Five-Year Plan (2021-25).
The plan called for accelerated efforts to leverage the industrial internet to drive data-enabled and coordinated transformation of entire industry chains, and said that the country will build a number of international-level industrial internet platforms in key industries and regions during the period.
The industrial internet will help deepen the digital application of manufacturing, operational management and market services, and will help cultivate and develop new models such as personalized customization and flexible manufacturing, according to the plan.
"It is urgent for China to beef up industrial internet efforts as the sector is entering an explosive period and there has not yet been a dominant platform worldwide," said Zhou.
Zhou said that the nation's industrial internet started early, but still has a long way to go before large-scale application. The window of opportunity is only two or three years for China.
The industrial internet, also known as the "industrial internet of things", refers to the broader adoption of advanced technologies such as next-generation wireless networks, big data, artificial intelligence and the IoT. The window period is the duration during which some action can be taken before achieving a desired outcome.
More than 700,000 companies like garment manufacturer Weizhi have been connected to Haier's industrial platform COSMOPlat, the first of its kind in the world. COSMOPlat also topped the list of leading domestic cross-industry and cross-domain industrial internet platforms supported by the Ministry of Industry and Information Technology for two consecutive years.
"From order receiving, production scheduling, material preparation, tailoring, sewing and warehousing all the way to delivery, the entire process has been digitalized with COSMOPlat. Users can even directly interact with designers on the platform to customize their order," said Chen Yunshuang, head of the informatization department of Weizhi.
Ni Guangnan, an academician at the Chinese Academy of Engineering, said: "The industrial internet uses the internet and technologies to optimize the traditional industrial process, which will greatly improve production efficiency. Over the long term, it will boost the competitiveness of China's manufacturing on the global stage."
While home appliance industry revenue in the United States continued to decline last year due to challenges brought by the COVID-19 pandemic, Haier hit record highs in revenue and profit. To date, Haier's COSMOPlat has been applied into trials in GEA, Fisher & Paykel in New Zealand and Japan's Sanyo.
"This is the advantage of COSMOPlat, and it also benefits Chinese smart manufacturing in the global industrial internet field," Zhou said.
Zhou added that he believes that China-as both a global manufacturer and an internet powerhouse-must develop its own user-driven industrial internet system featuring interaction and integration with consumers.
China is the only country in the world that ticks all 41 industrial categories under the United Nations' industrial classification standard, with abundant application scenarios. Those advantages grant China unique benefits in developing industrial internet systems, Zhou said.
He said he expects that China will sharpen its global competitive edge in diversified competition over the next three to five years, and contribute a "Chinese model" that features mutual benefits for the world's industrial transformation.
"The vitality of the industrial internet lies in solving problems. It has played an active role in helping with prevention and control of the pandemic and the resumption of production, thus demonstrating the effect of empowering the digital transformation of the manufacturing industry," said Yu Xiaohui, president of the China Academy of Information and Communications Technology.
During this year's two sessions, Zhou suggested that the country should first establish a national-level open source alliance using the industrial internet platform to encourage developers to participate in developing open source codes and systems.
In his suggestions, Zhou called for joint efforts to promote the building of basic common standards in platforms, networks and security, and realize data interconnection and intercommunication between platforms and industrial apps.
"Multinational companies from China are also encouraged to replicate their successes in the industrial internet platform overseas, and offer both hardware and software services abroad through industrial internet platforms," he added.
According to the Ministry of Industry and Information Technology, China has already nurtured over 70 industrial internet platforms that have regional influence, with related applications covering over 30 key industries across the country. More than 350,000 industrial enterprises are connected to cloud platforms.
Alex Sinclair, chief technology officer for the GSMA, an industry alliance, said: "China is betting big on the industrial internet of things to increase productivity and drive efficiency by streamlining and automating manufacturing processes via internet connectivity. Backed by positive government support, China is set to become the world's leader (in this field)."
According to the association, by 2025, there will be 13.8 billion industrial internet of things connections worldwide, with China accounting for some 4.1 billion of them, or one-third of the global market.
However, Zhou from Haier pointed out that new challenges have emerged, including the uneven development levels of Chinese companies and the conflict between differentiated needs and limited supply capacity of current industrial internet systems.
"It is necessary to empower small and medium-sized enterprises so that they stay active. Dynamism is key to building the industrial internet system with Chinese characteristics," Zhou said.
Source:CHINA DAILY-Charming Qingdao